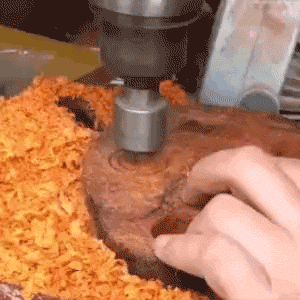 Craft rings from woodworking with ease!
Features:
Wooden Ring Drill Bit is flawlessly compatible with any drill presses or drill pillars and is essential for anybody who loves woodworking, arts & crafts or DIY. And you can easily make your own wooden rings of different styles in your home.
Sharp Concave Blades: The blades are made of high-speed and high-hardness stainless steel, and their surfaces are processed with a cover of mechine lubricant before leaving the factory to guarantee the tartness and durability. They are able to drill through any wood with precision. Every wooden ring comes out almost perfect that you'll just need a little sanding or polishing after.
Mold Different Sizes of Ring: This bit set includes 3 blades of different sizes, which all can create a perfect round rings. The ring size depends on the size of the bits you are going to use.
Works With Any Type of Wood: Can be used on ebony, walnut, mahogany, sandalwood block, rosewood, oak, etc. Don' t worry about the hard wood with which the blades cannot handle.
Perfect for DIY Enthusiasts: Excellent tools for personalizing rings and home decorations. Design your own jewelry, DIY handicrafts, home decors and more!
Note:
Please pay attention to the following:
1. Don' t shake the blade (when using the bit, users are forbidden to adjust the position of blade frequently in case of the dislocation between the wood block and the bit)
2. When working, users have better clamp the wood block tightly
3. Don' t use the bit to drill the wood which has fractures and scars, also the the wood edges are forbidden.
4. When processing the wood, you need to adjust the drilling speed. Start speed when the drilling press gets started is 500-800r/min. Then moderately increase the speed(The ideal speed is 800-1800r/min). Less than 500r/min is not allowed Less than 500r/min is forbidden, because it will cause jam between the wood block and the blade
SPECIFICATIONS:
Material: High-Speed Steel
Ring diameter: 16 / 18 / 20mm
PACKAGE INCLUDES:
1PC
1 x Handle
1 x L-type Tool
1 x Blade
2 x Drills
Three Sizes
1 x Handle
1 x L-type Tool
3 x Blades
5 x Drills