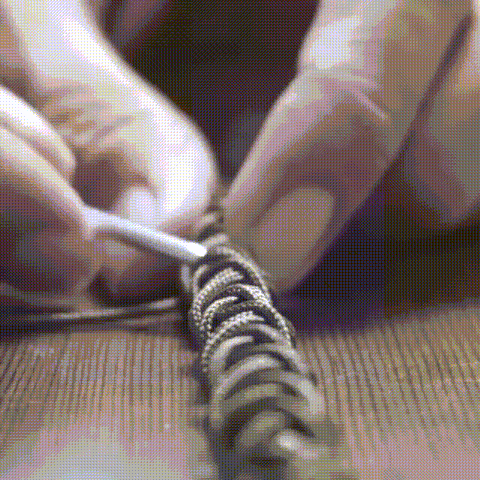 Wide Application:Perfect for many of shoelaces, ropes or other materials, and can be used to weave leather, weave paracord bracelets, do DIY craft words,accessories and paracord works. (school bags, rucksacks, travel bags, handbags, camera bags, computer bags, luggage series, clothing decoration)


Different size and shaped to fit more laces, ropes.



Easy to Use: With a velvet bag for easy storage and use. Use the smoothing tool to smooth the burnt end of the bracelet. The needle and smoothing tools are lightweight and won't make your hands very tired. Suitable for handmade lovers.


Durable and Lightweight: Made of stainless steel needle, durable and sturdy, resistant to corrosion and rust, lightweight and easy to carry, providing long-lasting use.


PACKAGED INCLUDE:
Beginner 5pcs Set
1 x needle with a hole
1 x 78x3mm paracord needle
1 x 78x5mm flat head paracord needle
1 x 78x5mm paracord needle
1 x smoothing tool
1 x 11x13cm lint storage bag
1 x hole pin
1 x 3mm looper
1 x 5mm looper
1 x 3mm steel pin
1 x 5mm flat needle
1 x 5mm steel pin
1 x 6mm steel pin
1 x 5mm x 90mm steel pin
1 x 11x13cm lint storage bag
Professional 11pcs Set

1 x Large hole needle
1 x 3mm curved needle (75mm)
1 x 5mm curved needle (75mm)
1 x 3 mm straight lacing needle (78mm)
1 x 5mm flat head needle (78mm)
1 x 5 mm straight lacing needle (78mm)
1 x 6 mm straight lacing needle (78mm)
1 x 5 mm lacing needle (90mm)
1 x 11mm smoothing tool (122mm)
1 x Small u-shaped scissors
1 x 11x13cm lint storage bag