Dividing mathematically or with calipers is difficult.
Use the Equal Distance Divider Hole Layout Tool to easily mark 12 equally spaced sections on any surface.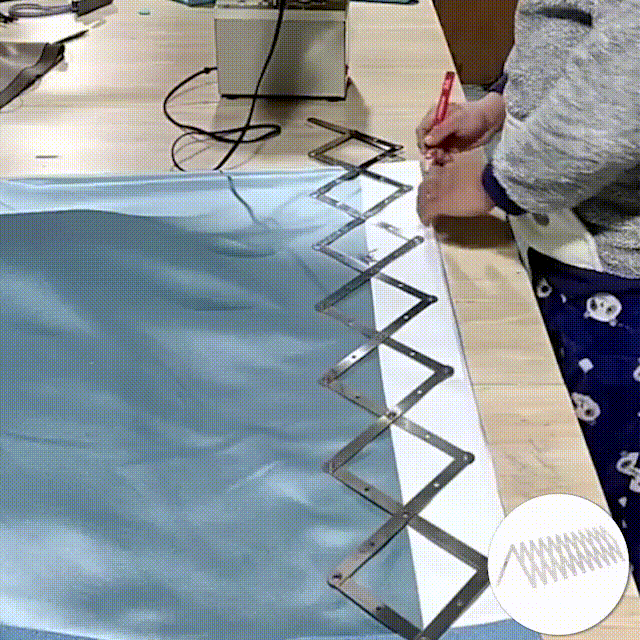 Extendable up to 165in (4.2m)



EXACT MEASUREMENTS:
You can specify the exact distance between the sections which allows for precise measurements without complicated calculations.
CHOOSE YOUR LENGTH:
Whenever the moving section of the tool lengthens or shortens, the arms retain uniform spacing throughout the movement.
Find Your Center:
Save time by using the Centering Ruler Equal Spacing Divider Tool to visually design and mark your project into equally divided parts and produce repeatable measurements
Speed up and simplify the layout process of equal spacing jobs for fabrication, woodworking, and upholstery.
Mark evenly divided sections or spacing for cutting, drilling, doweling, jointing, pinning, welding, and other woodworking, carpentry, and construction applications;
Use for biscuits, screws, shelving, pegs, steel fabrication on the field or anything uniform;
Even use for buttonholes and longarm machine quilting.
No More Complicated Calculations!
STEP 1: Move either end of point spacing tool to expand;
STEP 2: optionally use a ruler to measure the length between 2 arms until the desired distance is reached
STEP 3: Place the arms on top of the project and bust out your pencil to start marking;
For left and right-handed applications;
SPECIFICATION
Material: Stainless steel
Extendable up to 165in (4.2m).