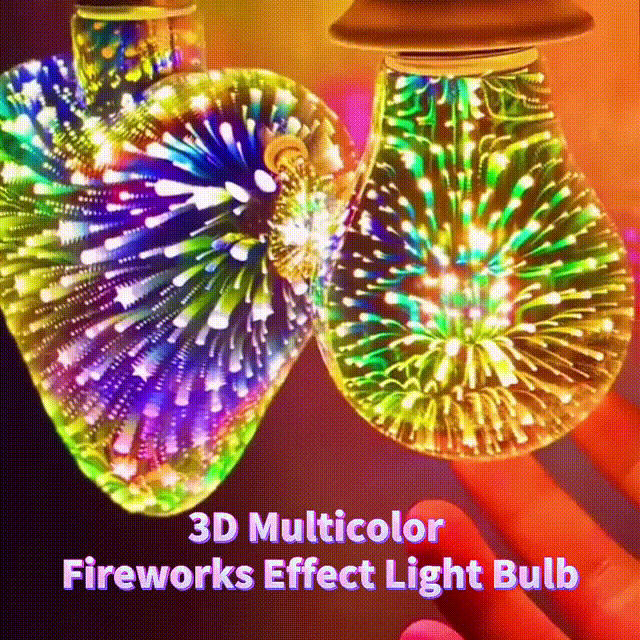 LIGHT BULB LIKE FIREWORK: The light bulb has an antique vintage look, when you light It up can let you reminiscent of a gorgeous fireworks or a starry night sky; create the perfect ambiance for any occasion.
VERSATILE USE
: Add a splash of color to a patio, office, home, party, wedding or any festive situation with the 3D Fireworks Effect LED Party Bulb.
SAFETY & ENVIRONMENTAL PROTECTION
: Safer to use than fluorescent bulbs, this light bulbs multicolor does not contain any mercury and won't release any hazardous gases into the air if it breaks.
SAVE ENERGY AND MONEY
: Latest LED technology makes the bulbs have an average life of up to 10,000 hours,only uses 2 watts of electricity so you can feel good swapping out older bulbs to save energy and money.
EASY TO INSTALL
: Makes it easy to adds a distinctive look to any room while enjoying the latest energy saving benefits of LED.
SPECIFICATION
Material: Glass
Voltage:110-130v, 220-240v
Power: 2W
Lamp head:
E26;
It fits most light fixtures.

Light source: LED
Light Color: RGB (Automatic gradient color)
Color temperature: 2700k
Luminous flux value: 145-200
Protection level: IP54
Beam angle: 360 degrees
Size (Dia.x H):
Christmas Tree: 3.4 x 9in/ 85 x 230mm
Diamond: 6.3 x 3.7in/ 160 x 95mm
Star: 3.7 x 6.5in/ 95 x 165mm
Heart: 4.3 x 5.9in/ 110 x 150mm
Round G95: 3.7 x 5.5in/ 95 x 139mm
PACKAGE INCLUDED


3D Fireworks Effect Light Bulb x 1